Len Hend – teaching painting since 1976
I was born in Sydney 1943 and attended the public schools at Parramatta.
My mother was an artist and professional dancer, my grandfather Jack Ricketts was an English born scenic artist for the live theatres.
Work work and more work
My father was a bushman, a boxer and later a dancer. His parents were of Aboriginal, Chinese and Scottish decent. Painting was always a family past time.
In 1963 I bought a small farm at Londonderry on the outskirts of Sydney where I built a race horse training complex; meanwhile I worked both as a fencing contractor in the early mornings and a detail draftsman during the day.
My detailed drafting job involved the design and drawing of hydraulic compenents for power stations and other large engineering projects. The work also required accurate and unambiguous instructions for the manufacturing of the components and I feel that this work helped with my ability to give clear instructions when teaching painting.
The company I worked for was McNamee Industries, Hope St Ermington, NSW.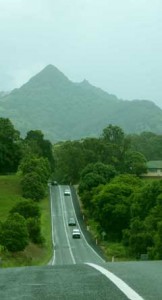 In 1976 I opened an artist supply business in Penrith west of Sydney and started teaching and refining my painting techniques. In 1979 I started writing a how-to-paint book which was soon converted to video.
Those first 6 lessons are still available today in the updated and new 70 video collection.
Not enjoying city, life I dropped out, bought a property at Mullumbimby northern NSW then toured Australia for the next 20 years, while living in a converted school bus.
I painted thousands of pictures while demonstrating my techniques and selling tutorial videos. Being allergic to perfume, I shied away from galleries and art institutions preferring to please the general public with my colorful landscapes and deft manipulation of the brush.
While mostly painting in oils or acrylics I often resorted to using house paint on murals which were up to one hundred foot long. I have now retired and spend my days at Mullumbimby or in Chiang Mai, Thailand.
I now have the time for filming and refining my new series of tutorial videos.
Here are some Pics from my personal album.
I have four sons and a daughter. http://susanhend.com/
My son Daniel is also an artist http://www.danielhend.com/
by Len Hend