Life in Australia as an Artist
Where is Mullumbimby? You might ask.

Soon after 1979 I moved to Mullumbimby.
Mullumbimby is a small town on the far eastern tip of Australia, about in the middle of the east coast. The population of Mullumbimby is now about 5000 and growing. When I moved into the Northern Rivers area the population of Mullumbimby was 2000, it was famous for the
'Mullumbimby Madness'
strain of marijuana grown by the hippies living in the hills, (also grown by towns folk including prominent persons – but we won't say much about that?
I moved to Mullumbimby about 1980 when I noticed a lot of my friends from Penrith NSW were either dead or in prison.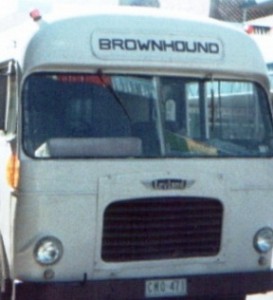 Brown Hound – home sweet home
I closed my art supplies store and sold my race horse training complex at Londonderry and my E-Type Jaguar to make a clean break and fresh start.
For the next 20 years I roamed Australia, making Mullumbimby my home base.
A collection of photos
I have few images of my wandering days
If you have any old pictures of me I would love a copy.
This was a typical set up in a shopping center.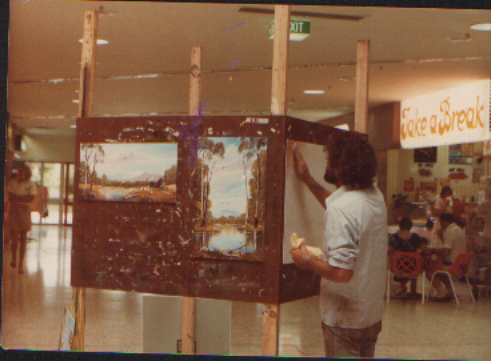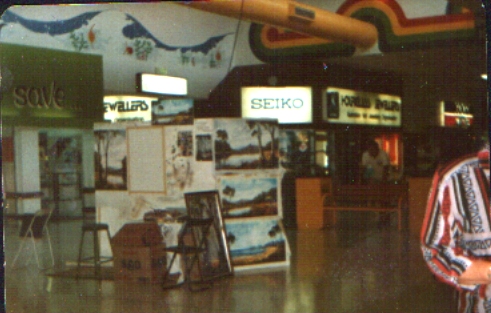 All I needed could be purchased locally so i had very little to lug around.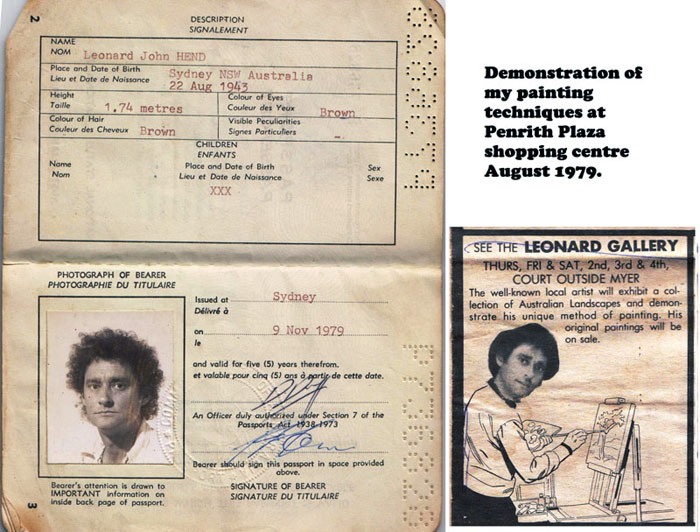 My appearance was not usually desirable but the shopping center managers would always invite my back and help me on my journey by linking me to the next shopping center along my way.
The next image is the big shopping center in Cairns QLD.
I was there a few times and still hold many beautiful memories of the area.
I held so many exhibitions all around Australia that I have forgotten half of them.
You might recognize some of these places.
Sorry the images are poor, they are pre-digital, it is all I have.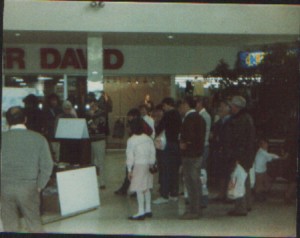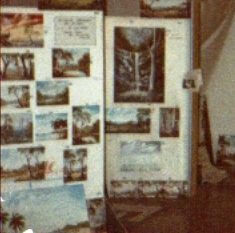 Somewhere some time.
Now all this might leave you thinking:- Did Bob Ross really copy my style? I believe so and I also believe he used the information on my videos (1980) to develop his teaching style.
My techniques are now sold as the Bob Ross method. These techniques did not just happen, they were developed by me after thousands of paintings over many years and they are still on my videos made in the early 80s.
Over the years I painted in Cook Town, Albany, Broome , Hobart and almost everywhere in between. I sold thousands of paintings and videos.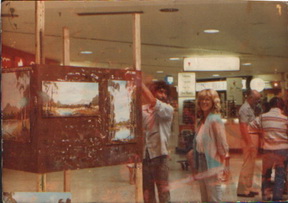 Time to settle down and Build a Pole Home.
I started building my home on the mountain. Mt Chincogan.