Testimonials from Painters
About learning to paint landscapes with Len Hend

Over the years thousands of painters have learnt from the Speed Painting techniques as shown on the video lessons.
Here are some of their thoughts.
"Hello Len
I have bought 3 of your DVDs & am totally enthralled with your lessons. They encompass what I have learnt in the past but have given me some enthusiastic & refreshing ideas to work on, however I will do the lessons so I can learn more. I think I have been waiting for this sort of painting to find me.
Thank you for sharing your talents & ideas. I can't wait to get going over the weekend
Cheers, Lynne Smith
PS: Do you run workshops – I would love to attend if so."
---
"Thank you Len for those very great paintings.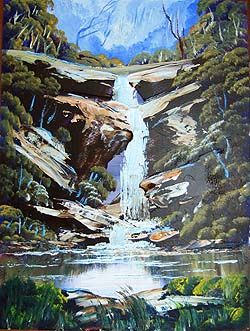 I just love the Secret Rainforest and how only the two colours are used teaching tonal qualities. Also the Big Waterfall, I think that is the one where you show a tree out back of your house with all that really beautiful coloured bark.
Not been very well over past few weeks so been sitting watching your paintings and trying to take down notes as you do them.
After I see the Specialist today am hoping I can then get going on doing some "art" work, have got some art canvas in vari0us sizes, one thing going to practice doing is your skies, you just make them look so real, been looking at cloud formations around here lately."
Again many thanks, Win Fehring.
---
"Hi
Just wanted to drop you a quick note to let you know about the legacy you've left in some of my students.
I'm a private tutor. I get to tutor kids who have lost their love for learning or are struggling in the schooling system for various reasons.
I'm definitely not an artist… but I came across Speed Painting in a library about a year ago and it's taught me just enough about painting to be able to pass on some basic concepts to my students. Then I build on their "success" in speed painting to encourage their confidence in other areas.
Most of my kids print poorly.. draw crudely… but can get some reasonable results with speed painting. And your "no mistakes with art" approach is liberating for them…
Likewise most of my kids have a five minute attention span… yet they can sit "at your feet" and watch you paint… thoroughly absorbed for an hour!
Thanks for making the DVD's and sharing your skills… their influence extends beyond teaching other artistic people to paint.
Have a good Christmas and New Year."
Linda Truss, Stakehill W.A
---
"Hi Len.
My name is Linda Maher, I'm a mother of 8 from South Australia, and about 3 years ago, I found I had an interest in painting, in particular, Australian Landscapes.
Now, with 8 children, all of whom are still at home, there's not a lot of time, but I paint when I can. I was having difficulty with such things as reflections, composition, and especially, gum trees. I then
found your Speed Painting DVDs, and I have had a wonderful time the past few months, following them step by step."
---
"Hi Len,
I've just completed the 'cottage in the moonlight' – it is just the thing I love to paint! I'd done a few country houses beforehand, but finally I feel I have the techniques to be able to paint as I would like; so thankyou! The DVDs have also allowed me to paint in the time I have; I once spent weeks on a painting, as with all I have to do, there is so little time. Speed painting allows me to finish a painting quickly, usually in one evening.
I still have a little problem with painting the grass; sometimes I think the paint may be too thick; but I'm figuring it out, and we'll get there!
Thank you so much." Linda Maher.
---
"Len, I just got your DVDs and have to say they are AMAZING!!! I learned a ton. Thanks again. I really appreciate your unique style!"
SBPStudio
---
"I Finally got these DVDs. I have to say I was a bit skeptical but you have convinced me. These were stellar! Although the audio could have been better I learned a ton of new techniques and very interesting ways of approaching many things. Good stuff. Peter"
---
" I've been a professional artist for 30 years. I thought I knew just about everything with art. I watched a few of Len's videos and learned an amazing amount! Dammit, I have to admit he's good!" Colin
………..